RN, Family Birthing Center, Tillamook, OR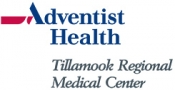 View the Website
Tillamook Regional Medical Center - Adventist Health
Nurse
Tillamook, OR
October 24, 2017
Join our team at Tillamook Regional Medical Center! We are looking for skilled Registered Nurses (RN) staff to join our team in the Family Birthing Center!
Adventist Health is more than a healthcare system. We provide whole-person care to our communities and champion the greater good—from the operating room to the boardroom, we are driven by our unique passion to live God's love through health, wholeness and hope. From Oregon to Oahu, we have a calling to always do more. Now is your chance to apply your passion to our mission.
Tillamook Regional Medical Center is a 25-bed critical access hospital in Tillamook, a rural community on the northern Oregon coast. Services include: 24-hour ambulance and emergency services, clinical outpatient therapy services, imaging, laboratory, medical and surgical services, intensive care, obstetrics, rehabilitation, home care, hospice and rural medical offices. As a non-profit organization, much of our health care revenues stay within Tillamook County in the form of purchases and payroll, as well as the reinvestment by Adventist Health in upgrading equipment.
The Family Birthing Place consists of four warmly decorated suites, which resemble a master bedroom more than a medical center room. Our patients will enjoy one comfortable, private suite for their labor, delivery, and recovery stay, without changing rooms.
Our ideal candidate will have:
Bachelor's Degree in Nursing (BSN): Preferred
Acute care facility experience: Preferred
Oregon state RN license
Basic Life Support (BLS) certification: Required
For additional information, please contact Staci Crane, Sr. Talent Advisor at craness@ah.org or 503-251-6130 or visit our website at: https://www.adventisthealth.org/Tillamook/pages/about-us/careers/job-search.aspx
See above
See above
See above