Licensed Practical Nurse, Portsmouth, OH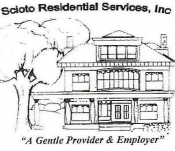 View the Website
Scioto Residential Services
LPN/LVN
Portsmouth, OH
June 13, 2018
LPN Wanted – Scioto Residential Services
The Licensed Practical Nurse (LPN) is considered a management position. Employees that are in management positions are part of a team that is responsible for ensuring that all clients of SRS are treated with genuine care, respect, and acknowledgement of their individuality. This position is primarily involved with the health care of SRS clients and the training and supervision of Direct Support Professionals. Secondary to these duties, in the absence of the Day Array Services Coordinator, the LPN serves as immediate supervisor to Direct Support Professionals assigned to day array services.
The LPN has direct contact with clients and is required to step-in at any time a client needs care and attention. The performance of these job duties may result in exposure to blood borne pathogens. Experience in the field of Intellectual Developmental Disabilities preferred. Must have and maintain a valid Ohio nursing license; The ability to obtain and maintain certification to instruct First Aid/CPR/AED courses; Valid driver's license, personal auto insurance or bond, insurability with agency insurance company; Capable of successfully completing SRS driver training; Ability to travel independently locally and out of town as required; Ability to transport clients as needed. This position is an hourly position. Over time hours of work must be authorized by the RN or other member of administration. Typical days and hours of work are Monday through Friday 9:00 AM to 5:00 PM. However, the LPN is required to be flexible with days/hours of work in order to meet the needs of clients. The LPN participates in an on-call rotation. During assigned periods of on-call the LPN is available to address healthcare issues that occur outside of routine hours. Also, in the absence of the Day Array Services Coordinator the LPN addresses any issues that arise outside of the routine hours of operation for the day services. Pay scale is $14.72 to $19.23 per hour depending on experience plus a full benefit package after 90 days (health/dental/vision/life insurance, 16 hrs PTO per quarter, 8 hrs sick time per month, 80 hrs vacation after one year).
Apply in person at SRS 9 Plaza Drive, Portsmouth, OH 45662 (Rosemount behind Glockner) M-F 9a-4p. You must bring a copy of valid Ohio nursing license and picture ID at the time of application.
SRS is a drug-free work place and drug testing is required.
Scioto Residential Services, Inc.
All qualified applicants shall receive consideration for employment without regard to race, religion, color, sex, national origin, ancestry, sexual orientation, Vietnam-era veteran status, disability or age.
See above
See above
See above