Chief Financial Officer, John Day, OR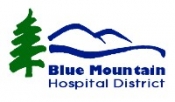 View the Website
Blue Mountain Hospital District
Chief Financial Officer
John Day, OR
July 23, 2018
Chief Financial Officer (CAH-Hospital/Healthcare)
City, State: John Day, Oregon
BLUE MOUNTAIN HOSPTIAL DISTRICT is accepting applications for CHIEF FINANCIAL OFFICER(HOSPITAL/HEALTHCARE) - Must be very hands-on and involved in the details. This position has limited staff.
Competitive wage and benefits package.
JOB SUMMARY:
The Chief Financial Officer (CFO) will perform duties as assigned in accordance with Oregon Critical Access Hospital Administrative Rules and Regulatory. The CFO will provide leadership, financial oversight and direction to ensure the overall fiscal responsibility and financial well-being of the organization. The CFO will be an integral part of the senior leadership team responsible for accounting functions, budgets, financial risk management, financial statements and reporting on financial performance.
The CFO reports directly to hospital district's Chief Executive Officer. The CFO will oversee all areas related to patient accounting and revenue cycle management for the hospital. The candidate should have extensive knowledge of revenue and cash management processes including billing, collections, coding, medical records, accounts receivable, accounts payable, financial reporting, month-end close processes etc. The CFO will also oversee materials management and the information systems of the facility with strong centralized support from the Administration Office. The CFO will possess the skills to analyze and complete financial budgets, Medicare cost reports, managed care contracts and internal/external audits. Also, must have working knowledge of coding and third-party regulations.
Participates in performance improvement and continuous quality improvement (CQI) activities.
Effectively and consistently communicates with BMHD personnel and encourages interactive departmental meetings and discussions.
Represents the organization in a positive and professional manner at all times.
Establish & maintain solid work relationships through communication, cooperation, and positive interaction with all employees, staff, patients and physicians.
SUPERVISORY RESPONSIBILITIES:
Supervise and coordinate departmental operations and personnel in accordance with BMHD standards with those departments assigned.
Supervise payroll, payroll taxes, and other reporting to local, state, and federal agencies.
Coordinate the monthly completion of Productivity Reports for management to include staff contract hours and statistics by department.
REPORTS TO:
Chief Executive Officer (CEO) for daily duties and strategic planning for the hospital district.
EDUCATION REQUIREMENTS
Required: Bachelor's Degree at an accredited college or university in Accounting or Financial and knowledge of generally accepted accounting principles; A minimum of 3-5 years of experience as CFP or Assistant CFO of a CAH or similar rural hospital; or 10 to 15 years of related experience and/or training; or equivalent combination of education and experience.
Preferred: MBA - Master's Degree at an accredited college or university or equivalent work experience in a related field. Preferred 3-5 years' experience in leadership role, "production-driven oriented" and have a proven background in small hospital experience (CAH or similar rural hospital)"involved in the details".
CERTIFICATION/LICENSURE REQUIREMENTS:
Required: N/A
Preferred:
Certified Public Accountant (CPA).
Basic Life Support (BLS) certified by American Heart Association (AHA).
LANGUAGE SKILLS:
Able to communicate effectively in English, both verbally and in writing.
Additional languages preferred.
This job description reflects managements' assignment of essential functions; it does not prescribe the tasks that may be assigned.
Additional Information
Position Type : Full Time
Shift : Day
Contact Information
Recruitment Support - General Inquiries Only
Human Resources
170 Ford Street
John Day, OR 97845
Email: RecruitmentSupport@bluemountainhospital.org
Phone: 541-575-1311 #2964
See above
See above
See above