Psychiatric RNs and LPNs, Lakewood, WA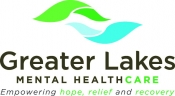 View the Website
Greater Lakes Mental Healthcare
Nurse
Lakewood, WA
December 6, 2018
Psychiatric RNs and LPNs
Company Description
Greater Lakes Mental Healthcare is a full-service community mental health center, providing behavioral healthcare to the citizens of Pierce County for 50 years. Our Main Building is conveniently located a few miles south of Tacoma Mall, near the intersection of Bridgeport and Gravelly Lake Drive at 9330 59th Ave SW in Lakewood, WA. Greater Lakes serves over 10,000 individuals each year with a team of over 300 staff. Our modern professional clinic provides a comfortable setting for counseling and medication services.
All employees promote the Mission of GLMH with a style that reflects the culture, the values and the mission of the organization. Our Mission is:
Greater Lakes Mental Healthcare:
Empowers hope through compassion, engagement and connection with those we serve.
Empowers relief through effective evidence based practices that promote skills and resilience.
Empowers recovery by building upon strengths and supporting individuals in their goals.
Job Descriptions:
Greater Lakes is currently looking for both psychiatric RNs and LPNs for our 16 bed inpatient Evaluation and Treatment Center:
The Psychiatric RN is responsible for the well-being and nursing care of all residents assigned to them during their shift. He or she provides psychiatric and general nursing services following the patient's treatment plan, assesses patients and responds to and reports any changes in condition, distributes and charts medications, and responds to emergencies.
The ideal candidate has a diploma in Nursing (bachelor's degree preferred), holds a current unencumbered license as a Registered Nurse, and has at least one year of experience, preferably working with adults with severe and persistent mental illness. Experience working in an inpatient psychiatric setting strongly preferred. Effective oral and written skills, empathy and the ability to listen, good time management and computer skills, and professional dress, speech, and behavior are all required for this position.
The Psychiatric LPN provides nursing services to consumers at the Evaluation and Treatment Center, including medication administration and monitoring as well as general nursing care. Collaborates with internal and external medication prescribers and other clinical staff to ensure effective consumer care. Assists other E&T staff with general milieu management throughout the shift as needed.
The ideal candidate has an LPN degree and a current WA State Licensed Practical Nurse license. Must have a minimum of two years experience working with adults with acute mental illness, or working in a nursing home setting, or other residential nursing care facility where clients with mental illness reside. Prefer experience working in an inpatient psychiatric facility.
Apply Online:
Psychiatric RN - FT Swing Shift - $5000 Signing Bonus
Psychiatric RN – FT Night Shift - $5000 Signing Bonus
Psychiatric RN - On Call
Psychiatric LPN - On Call
See above
See above
See above