Vice President Revenue Cycle, Wenatchee, WA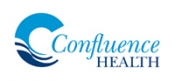 View the Website
Confluence Health
Senior Leadership
Wenatchee, WA
February 5, 2019
Position Summary:
Confluence Health is the largest health care system located in North Central Washington. Confluence Health has annual net revenues of approximately $700 million per year, 4,000 employees, a 198 and 20 bed hospital, 300 physicians, 150 advanced practice clinicians, and 12 outpatient clinic sites. The Vice President of Revenue Cycle position reports directly to the Chief Financial Officer and is responsible for overseeing all inpatient and outpatient Revenue Cycle functions for Confluence Health. These functions include patient access, coding, insurance billing and follow-up, denial management, revenue integrity/optimization, payment posting, and CDM. This position also requires working closely with clinical managers, HIM, case management, compliance, information technology, and finance.
Essential Functions:
Ensure that the Revenue Cycle departments strategy and vision support organizational goals.
Develop and implement effective policies and procedures.
Monitor and report department performance based on established KPIs.
Development and the results of the Revenue Cycle management team.
Research and recommend new initiative development and deployment.
Ensure compliance with billings rules and guidelines.
Oversee annual price adjustments and strategies.
Ensure compliance with net revenue reporting and cost reporting.
Proficient in Microsoft Office applications and enterprise medical record / billing system (Epic).
Requires excellent organizational and project management skills.
Process redesign to promote optimized resource utilization and improved performance.
Organizational revenue cycle performance communication and planning.
Strong communication skills.
Ability to set priorities.
Other duties as assigned.
Required:
Master's degree in Business Administration, Accounting, Finance, Health Administration, or Information Technology.
7 years management experience with 5 years senior level administrative experience.
A minimum of 5 years' experience within healthcare revenue cycle operations; insurance and regulatory rules/guidelines.
Internal candidates: 6 years of management experience with 3 years of senior level administrative experience at CH and completion of CHVS certification.
Must maintain primary residence in the Confluence Health service area.
Desired:
Experience with Epic electronic medical record and billing system(s).
Experience with revenue cycle optimization and redesign.
Please apply at:
https://pm.healthcaresource.com/CS/confluencehealth/#/job/6272
See above
See above
See above