Respiratory Therapist .90 FTE, Ellensburg, WA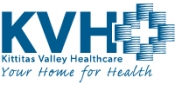 View the Website
Kittitas Valley Healthcare
Respiratory Therapist
Ellensburg, WA
March 26, 2019
Respiratory Therapist - Full time Nights
603 S Chestnut St, Ellensburg, WA 98926, USA
Full-time
Company Description
Who is KVH...
KVH is an integrated healthcare delivery system that includes 24-hour emergency care, inpatient, and outpatient hospital services through KVH Hospital. Clinics include family medicine, internal medicine, orthopedics, general surgery, women's health, pediatrics, workplace health and urgent care. Specialty services provide home health and hospice, physical, speech and occupational therapies, and a geriatric nurse practitioner program.
Job Description
Provides Cardiorespiratory services to hospital patients and other patients as directed. Hospital duties are primary in this position. Hospital based duties: Delivery of quality patient care and collection of quality assurance data. Coordinates patient care with physicians, nursing staff, and other therapies. Requires advanced practitioner skills to intervene in complex patient care situations. Advanced assessment skills. Conducts non-invasive cardiac and respiratory studies/tests. Coordinates and conducts special projects as assigned. Position requires 12-hour shifts, emergency call duties, and weekends.
Qualifications
What is required...
Registry with the National Board of Respiratory Care (NBRC) as a Registered Respiratory Therapist (RRT)
Current Washington State Respiratory Therapist license from the Washington State Department of Health
Current CPR card (maintenance required)
What is preferred...
Work and/or education experience that promoted group/team relations
Previous experience in the practice of respiratory care; including care specific to adult and pediatric acute care delivery. One year of tertiary level respiratory care or geriatric respiratory care delivered is preferred
Additional Information
Wage: Hourly range starts at $26.66/hour up to a maximum of $32.35/hour. Actual starting wage will be based on years' of applicable experience. Evening Shift differential (3p-11p) = $2.25/hour, Night Shift differential (11p - 7a) = $3.10/hour, Weekend Shift differential = $3.00/hour
FTE: .90 = 36 hours/week
Schedule: Variable workdays, three 12-hour shifts/week
See above
See above
See above