Caregivers - Home Care, Portland, OR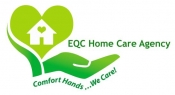 View the Website
EQC Home Care Agency
Professional
Portland, OR
April 10, 2019
EQC Home Care is dedicated to providing exceptional, cost effective, family focused care for the medically complex client. Our goal is to meet the client's needs in the nurturing environment of their home, minimize the impact of the client's condition on the family while respecting the role of the family in the care of the client.
Caregivers Needed - Flexible hours, Benefits, Training Provided
Job Description
Purpose: Providing day-to-day and/or medical care for the elderly, disabled, ill and others in the comfort of their own homes.
Responsibilities:
Providing warm and welcoming care in the client's home
Attending to client's needs, wants, and other suggestions about their care
Establishing a relationship with each client and members of clients' families
Assisting client with Activities of Daily Living including: Continence, Transferring, Toileting, Dressing, and Bathing
Assisting with Instrumental Activities of Daily Living: Using the telephone, Shopping, Preparing food, Housekeeping, Doing laundry, Transportation, and Handling medication
Observing and recording care notes regarding client's condition and wellbeing
Responding to medical and other emergencies immediately
Reporting incidents accordingly
*The above list consists of some of the responsibilities a caregiver will encounter since each client has a unique care plan tailored to their needs*
Qualifications:
Ability to read, write and communicate clearly
We provide training, therefore prior caregiver experience is a plus but is not required
Successful candidate must be reliable, patient, attentive, as well as respectful
The preferred candidate must have reliable transportation, valid ID, and a working phone
Apply today to learn more about how we accommodate your work schedule, benefits you'd be eligible for, and the training that we equip our caregivers with!
Training provided if no prior experience.
See above
CPR preferred, but CPR classes are also provided if renewal is needed.