RN Case Manager, Salem, OR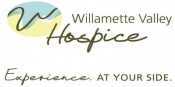 View the Website
Willamette Valley Hospice
Nurse
Salem, OR
May 9, 2019
RN Case Manager – Willamette Valley Hospice
For 41 years, Willamette Valley Hospice has been in the non-profit business of helping families through one of the most difficult times of their lives – losing a loved one. The comfort, compassion, teaching, and empowerment you provide as an RN Case Manager can help hospice patients and their families make the most of their time left together. We're looking for hospice nurses that want to use their passion and expertise as part of a team to provide the best care possible for hospice patients. We are currently looking for a full-time RN to work Monday through Friday with occasional on-call hours. This position is non-exempt, and is a benefited position. Depending on your Hospice and/or Palliative Care experience, our starting hourly rate range is $37.00 to $42.00 per hour.
Duties
Fully use your professional skills and training, including critical thinking, teaching and assessment skills as you provide services to patients, families and caregivers in their own homes and facilities
Use your teaching skills to empower family caregivers as you guide them through the end of life journey and help them identify their options for care to optimize quality of life
Coordinate the care of hospice patients, working as part of an interdisciplinary team to meet the holistic needs of the patient and their family/caregivers
Provide caring, professional nursing services to hospice patients as indicated by the plan of care you develop with the interdisciplinary team
Perform initial and ongoing assessments of patients, developing and revising the plan of care as needed
Provide timely documentation and communication of assessments, planning and interventions
Manage your own daily schedule working within the guidelines of agency policy and hospice regulatory requirements
Requirements
Current Oregon RN license is a must.
Minimum one year of recent clinical experience as RN. We prefer two years of hospice, oncology and/or home health experience
Prefer certification as Hospice and Palliative Care Nurse
Current CPR certification
Possess excellent clinical nursing skills, superior ability to problem-solve, and commitment to continued learning and skill improvement
Must be willing to work in a variety of patient settings: care facilities, hospitals, patient homes, as well as work out of the WVH office when necessary
Ability to excel in high-stress situations and manage multiple priorities
Computer competency
Ability to regularly walk bend, stoop, kneel, push, pull, grasp, reach, handle, and lift up to 50 lbs unassisted.
Current Oregon driver's license, dependable transportation, and proof of current automobile insurance
Must be able and willing to drive own vehicle to and from patient locations
Our Commitment to Our Staff
A challenging and rewarding career with autonomy, flexibility, and the ability to manage your own schedule throughout your work day
Competitive salary and health benefits
401k Plan with Company Match
Comprehensive, 4-6 week orientation
Ongoing education and support
Reimbursement for Hospice and Palliative Care RN certification
Willamette Valley Hospice is an Equal Opportunity Employer. All candidates who meet the minimum qualifications for this position are encouraged to apply.
See above
See above
See above