Direct Care Providers, Williston, OH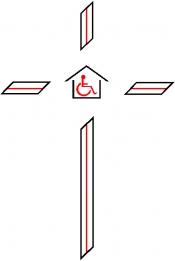 View the Website
Luther Home of Mercy
Professional
Williston, OH
May 14, 2019
We are looking for YOU
Great benefits, competitive salary, paid training.
Many people go to work each day wondering if they make a difference..
Luther Home of Mercy located in Williston, Ohio is a Christian based organization supported by numerous Lutheran programs. Our campus setting has eight (8) unique residential homes, serving adult individuals with intellectual and developmental disabilities. At this time LHM is accepting applications for the following positions:
Housekeeper
Accepting application for part time & full time Housekeeping Aides (Mon. – Fri. 7a-3p) starting pay of $9.75/hr. Experience in housekeeping is helpful. Must be able to dust, wash, vacuum, scrub & buff floors and clean walls and ceiling.
Direct Care Staff
If you are looking for a new career in helping other join Luther Home of Mercy's Direct Care Staff, assisting residents with DD with their daily needs for our Williston Ohio campus. Hiring for all three (3) shifts and week-ends only at $10.75/hr. No experience necessary
Supported Living Provider
Luther Home of Mercy has individual homes throughout Lucas, Wood and Ottawa County's. At this time we are accepting application for 1st, 2nd and 3rd shifts and week-end shifts to assist adults with Developmental Disability, starting pay at $11.00/hr. Applicant must meet the following qualifications: some experience (home care) in field, valid driver's licenses with reliable transportation for transporting. Also must obtain a CPR/FA and Med Administration within 30 days of hire.
NURSING LPN
LPN's, if you are looking for something different in health care and are interested in a unique opportunity to use your skills in Long Term Care, and then consider our family.
We are currently hiring for 1st (5:30a-3:30p), 2nd (2:00p-12:00a) & 3rd (11:00p-7:00a) shifts, (partial shifts available for 1st & 2nd), starting pay of $20.55/hr. with full benefits.
All applicants must have a HS Diploma or GED and be able to past a BCI check and drug and alcohol/physical check, lifting 40+ lbs. Interested applicants may apply online at www.lutherhome.org or at Luther Home of Mercy 5810 N. Main St., Williston, OH 43468. (10 minutes east on RT579 from Woodville Rd.) Or fax resume to 419-972-4347.
See above
See above
See above