Director - Human Resources, Ellensburg, WA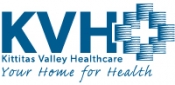 View the Website
Kittitas Valley Healthcare
Director
Ellensburg, WA
November 11, 2019
Director - Human Resources - Full Time
603 S Chestnut St, Ellensburg, WA 98926, USA
Full-time
Company Description
KVH is an integrated healthcare delivery system that includes 24-hour emergency care, inpatient, and outpatient hospital services through KVH Hospital. Clinics and services provided include family medicine, internal medicine, a geriatric nurse practitioner program, home health and hospice, physical therapy, orthopedics, general surgery, pediatrics, women's health, and urgent care.
Kittitas Valley Healthcare expects all employees to uphold our Vision & Mission. The KVH Vision, Mission & Guiding Principles can be found at http://www.kvhealthcare.org/mission-and-vision.
Job Description
The Director – Human Resources is responsible for leading the HR team as well as developing, planning and delivering HR programs and services. The Director supports, the business strategy and objectives through people management expertise. Provides and maintains a bias-free and legally sound work environment by planning and directing the progressive, accurate and cost effective delivery of human resource services including recruitment and retention of qualified personnel, employment law and regulatory compliance; union negotiations, employee relations, compensation and benefit processing. Also responsible for strategic human resource planning to provide the organization with the best people talent available, both within and outside the organization, and to position the organization as the employer of choice by being aware of policies, practices and trends within the healthcare and human resource industry.
Qualifications
What is required...
Bachelor's degree in Organizational Development, Industrial and Organizational Psychology, Human resources, or Public/Business/Healthcare Administration or equivalent experience
Ten years of work experience and competency within human resources activities including Employee Relations, Recruiting and HR Compliance
Three to five years of experience in Lean or Process Improvement facilitation
Strong commitment to organization, mission, vision, values and guiding principles
What is preferred...
Master's Degree
Certification as Professional in Human Resources (PHR) or above highly desirable
Additional Information
Wage: Wage range starts at $100,000/year. Actual wage will be based on years' of applicable experience.
FTE: 1.0 = 40 hours/week; Exempt
Benefits: This position is benefits eligible.
See above
See above
See above