Lab Assistant/Phlebotomist (MA-P), Ellensburg, WA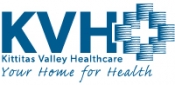 View the Website
Kittitas Valley Healthcare
Technical/Professional
Ellensburg, WA
November 11, 2019
Lab Assistant/Phlebotomist (MA-P) - Full Time
603 S Chestnut St, Ellensburg, WA 98926, USA
Full-time
Company Description
KVH is an integrated healthcare delivery system that includes 24-hour emergency care, inpatient, and outpatient hospital services through KVH Hospital. Clinics and services provided include family medicine, internal medicine, a geriatric nurse practitioner program, home health and hospice, physical therapy, orthopedics, general surgery, pediatrics, women's health, and urgent care.
Kittitas Valley Healthcare expects all employees to uphold our Vision & Mission. The KVH Vision, Mission & Guiding Principles can be found at http://www.kvhealthcare.org/mission-and-vision.
Job Description
Sample collections, scheduling, processing of all laboratory specimens, culture set-ups, and the performance of waived and moderate complexity laboratory tests. Includes clerical and reception duties of lab. If in a clinic setting will register patients and obtain x-ray images.
Qualifications
What is required...
High School Diploma or equivalent
Current Washington State MA-P or MA-C license (maintenance required)
One year experience as phlebotomist
If in a clinic setting and performing x-rays WA Dept of Health Radiologic Technologist licensure is required (within six months of hire)
Current CPR card (maintenance required)
What is preferred...
Valid WA State Driver's License (may be required)
Valid auto liability insurance (may be required)
Previous experience as a Lab Assistant
ASCP or equivalent Certification as a Lab Assistant
Additional Information
Wage: Lab Assistant wage range starts at $16.83/hour; Phlebotomist wage range starts at $15.88/hour. Actual wage will be based on years' of applicable experience.
FTE: Lab Assistant - .50 FTE (20 hours/week) & Phelbotomist - .50 FTE (20 hours/week) = total of 1.0 FTE = 40 hours/week
Benefits: This position is benefits eligible.
See above
See above
See above