Therapist, Springfield, IL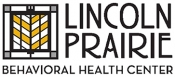 View the Website
Lincoln Prairie Behavioral Health Center
Behavioral Health Professional
Springfield, IL
November 12, 2019
Assessment and Referral (A&R/Intake)
Therapist
Full-Time, 11a-7p (on-call required)
Full-Time, 8a-5p (on-call required)
If you have a strong work ethic and exude a passion for making a positive difference in the lives of children and adolescents within the mental health field, we want to hear from you! Lincoln Behavioral Health Center is a crisis intervention hospital serving children and adolescents ages 3-17. We are committed to providing compassionate mental health treatment that encourages self-responsibility and personal growth. Our dedicated team of professionals provide psychiatric treatment who present with a broad range of psychiatric and behavioral disorders. A clinically skilled multidisciplinary team works to partner with the youth and family to accomplish their goals in a supportive and therapeutic environment.
Who are we looking for?
Compassionate professionals with a passion for children, and who:
Thrive in a fast-paced environment
Utilize interpersonal skills to convey empathy, to overcome denial and resistance to treatment as well as to promote teamwork.
Possess skill in organizing and prioritizing workloads to meet deadlines
Deliver "service excellence" through all client and team interactions
Acclimate and Mentor new team members; provide support and guidance
Accept supervision and work cooperatively in a team environment
Why work for us?
Join a clinical team passionate about the well-being of the children we serve. Join a team who cares about each other! Through providing comprehensive nursing care; therapeutic interactions, handling distressed patients in a therapeutic manner, and administering appropriate treatments, we do make a difference!
* Competitive pay * Shift Differential * Weekend Differential * Flexible scheduling: 8 and 12 hour options * Medical * Dental * Vision * 401k/match * Life insurance* Paid Time Off * Extended Leave Bank * Tuition Reimbursement * Employee Referral Bonus * Voluntary Insurance Options * Discounted Meals * Robust Employee Assistance Program * Growth opportunities both within LP and across UHS!
See above
See above
See above