Pediatric Psychologist, Phoenix, AZ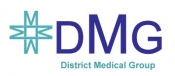 View the Website
District Medical Group
Psychologist
Phoenix, AZ
November 14, 2019
The Pediatric Psychologist is responsible for conducting psychological assessments, including clinical interviews and testing, and providing individual and family therapy to youth with eligible medical conditions. The psychologist works as an integral part of the multidisciplinary clinics, and acts as a liaison between the child/family and physicians and other medical/therapy staff, in order to facilitate understanding of the child's developmental needs and emotional, social, and behavioral functioning.
Duties and Essential Job Functions:
Conducts initial evaluations in order to assess current functioning, diagnose psychiatric conditions, and assist in treatment planning and intervention.
Administers cognitive, achievement, and developmental testing, as well as other specific assessments to diagnose psychiatric conditions and current functioning.
Provides individual therapy to youth diagnosed with chronic illness to address specific psychological disorders, to improve overall functioning and adjustment to medical condition, and to increase compliance with medical recommendations.
Provides family therapy to family members of youth with chronic medical conditions to support the care of these children in the home, decrease the likelihood of multiple placements, increase overall functioning and adjustment to family member's medical condition, and increase compliance with medical recommendations.
Participates in Multidisciplinary Clinics in order to facilitate treatment planning and assist in care coordination.
Provides psychological consultation regarding patients to physicians, medical staff, and therapy staff.
Provides crisis assessment and intervention as needed in the medical clinic settings.
Participates in program development in the behavioral health department and the multidisciplinary clinics.
Coordinates care with other state agencies (i.e., DDD, AzEIP), schools, and behavioral health agencies, as needed.
Maintains appropriate documentation of clinical evaluations and interventions.
Maintains patient confidentiality and HIPAA compliance according to federal guidelines.
Required Education and Experience:
PhD Psychology (APA approved program) Pre-Doctoral.
APA approved internship.
1 year post-doctoral fellowship in a hospital setting.
Experience in treatment & psychological evaluation working within a multidisciplinary team.
Preferred Education and Experience:
Experience working with children with medical conditions
Required Licensure/Certification/Specialized Training:
Fingerprint Clearance Card.
Valid CPR-BLS certification.
AZ State Psychologist License
Knowledge, Skills & Abilities
Knowledge of diagnosis and treatment of mental health disorders.
Advanced study of mental health assessment practices, regulations, and laws relating to clinical psychology practice.
Understanding of principles of legal documentation and medical records release of information.
Knowledge of psychological testing administration, scoring, and interpretation.
Knowledge of community mental health service delivery systems and other resources.
Skills in psychological and behavioral intervention, and crisis management.
Working knowledge of basic computer software programs: MS Office and EMR.
Physical Requirements:
Prolonged sitting, standing and walking, reading, writing, and use of computer.
Send CV to Debbie Uptain at debbie_uptain@dmgaz.org
See above
See above
See above