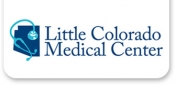 View the Website
Organization: Little Colorado Medical Center
Category: Technical/Professional
Location: Winslow, AZ
Date Job Posted: November 20, 2020
Share with Others:
About the Company
Little Colorado Medical Center is a 25-bed, critical access hospital, located 50 miles east of Flagstaff, Arizona; a compassionate and caring facility in a family oriented community. Enjoy the stress free pleasures of small town living with benefit of a fast paced stimulating work environment.
Qualifications
Bachelor's Degree in Medical Technology or Clinical Laboratory Science.
Must satisfy the Federal Clinical Laboratory Improvement Amendments-1988
Minimum of one year generalist experience, including blood bank and phlebotomy
ASCP certification is preferred
Responsibilities
Meets and confers with the Assistant Laboratory Manager concerning policies and procedures, work assignments, supplies and equipment problems and needs of the department.
Keeps the Assistant Laboratory Manager informed of work related needs and problems including quality control issues, testing issues, or other issues as required.
Complies with established laboratory and hospital policies and procedures.
Uses proper technique when performing laboratory testing.
Maintains confidentiality of patient information.
Cooperates with the staff to achieve goals and maintains good relations with other departments and public relations.
When possible, attends meeting and in-services as required.
Trains other technologist, technicians, lab assistants and hospital staff in laboratory procedures as required.
Performs routine laboratory testing and report results.
Organizes daily work flow, receives or collects specimens for testing.
Determines validity of and reports results.
Prepares solutions, reagents and stains as required.
Performs analyzer/method troubleshooting and repair as required.
Maintains laboratory records and logs as required when performing laboratory duties.
Assists in maintaining supplies and keeps the Laboratory Manager informed of supply problem or issues.
Keep the laboratory area and equipment clean.
Acts as a subject matter expert for hospital staff concerning the laboratory testing requirements and patient preparation.
Performs other duties as assigned by the Laboratory Director.
Benefits
HIGHLY COMPETITIVE COMPENSATION
403b RETIREMENT PLAN
RELOCATION PACKAGE (FOR QUALIFIED POSITIONS ONLY)
MEDICAL, DENTAL and much more
See above
See above
See above