Financial Operations Manager, Bend, OR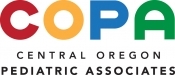 View the Website
Central Oregon Pediatric Associates
Manager
Bend, OR
February 15, 2019
Financial Operations Manager - Central Oregon Pediatric Associates (COPA) of Bend, Oregon, Central Oregon's largest independent pediatric practice, has an immediate opening for a highly-skilled and experienced Financial Operations Manager. COPA is a Five Star Tier Five Patient-Centered Primary Care Home looking for a candidate that contributes to the team with a passion for both the individual health of patients and a passion for population health throughout the region. The right candidate will thrive in a private practice where staff and providers have tremendous opportunity to positively impact the life of a child, with flexibility in a supportive environment of comprehensive resources. Likewise, COPA expects staff and providers to have a deep commitment to the practice, their team members and ultimately their patient. Candidates will demonstrate a work ethic that exhibits a commitment to patient compliance and outcomes.
RESPONSIBILITIES
The Financial Operations Manager supports COPA's mission and dedication to serving the children and families of Central Oregon with excellent, comprehensive and compassionate medical care. In general, the Financial Operations Manager at COPA will manage the day-to-day functions of the organization's finance operation including establishing and maintaining accounting principles, practices and procedures. The Financial Operations Manager supervises the Revenue Cycle team and is responsible for accounts payable, the accuracy and completeness of all general ledger accounts and financial reporting.
COPA providers and support teams are a close-knit group that collaborates to ensure all children are well served. The right candidate has a history of positive interactions in team environments and friendly demeanor to patient and families of all backgrounds.
Education and Work Experience requirements for candidates include: Bachelor's degree in accounting or related field required; Master's degree preferred. Minimum of 5 years of finance experience required and hospital or healthcare intake/admissions and/or reimbursement experience preferred.
To review the detailed Job Description and apply for this position please visit our website: www.COPAkids.com
ABOUT COPA
Central Oregon Pediatric Associates (COPA) has provided excellent, comprehensive and compassionate medical care to children in Central Oregon for over 40 years. Our mission is to serve all children with top quality medical care and outstanding service in a friendly and welcoming environment, regardless of their background or family status. COPA is a thriving, independent partnership whose healthcare quality measures exceed all medical care facilities in the region. COPA's Pediatric Center of Excellence provides embedded behavioral health specialists, care coordination teams, 24/7 Telephone Nurse Advice, newborn patient advocate, and newborn lactation consulting support. COPA hosts over a dozen visiting pediatric specialists from children's hospitals in Portland, Oregon who see patients in Bend at the COPA clinic. We are recognized for working closely with regional specialists to ensure patients have access to the best medical care available in a coordinated approach.
BEND, OREGON LIFESTYLE
Bend is an outdoor lifestyle and recreation hub located in Central Oregon. Bend is known for its culture of work/life balance, access to extraordinary outdoor recreation, and diversity of activities with proximity to the Cascade mountains, Mt Bachelor Ski Resort and Smith Rock State Park. The region is home to hundreds of miles of hiking and cycling trails, world class rock climbing, river and lake sports, hunting and fishing and all around outdoor activities. The city is famous for dog parks and brew pubs, restaurants and food carts, outdoor festivals and live musical entertainment.
See above
See above
See above