Registered Nurse Part-time - OR Circulating, Ellensburg, WA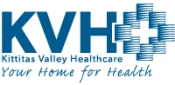 View the Website
Kittitas Valley Healthcare
Nurse
Ellensburg, WA
May 30, 2019
Registered Nurse Part-time - OR Circulating
603 S Chestnut St, Ellensburg, WA 98926, USA
Part-time
Company Description
What being an RN at KVH is all about...
"I wanted to be a nurse since I was a freshman in high school. I'm social, a talker. I love people and I love making them feel better. I knew if I became a nurse I could work anywhere - and I've never met a nurse who says they regret being a nurse." Kara Henderson, SOP RN
Our nurses are dedicated, progressive and want to be with a winning team. That's why they choose KVH and stay with KVH. The average nursing staff tenure with our organization is 8.5 years with some having spent more than 30 years with us. KVH nurses have created a culture within a culture that is supportive and close – they operate as a seamless orchestra with the patient at the focus of their care.
Who is KVH...
Our Family Medicine Clinics are the primary entry point into the Kittitas Valley Healthcare system of services. With a critical access hospital named in the Top 50 nationwide, and a variety of specialty clinics and services, we know that even you would be proud to call KVH your home for health. KVH is an integrated healthcare delivery system that includes 24-hour emergency care, inpatient and outpatient hospital services through KVH Hospital. Clinics include family medicine, internal medicine, orthopedics, general surgery, women's health, and urgent care. Specialty services provide home health and hospice, physical, speech and occupational therapies and a geriatric nurse practitioner program.
Job Description
The registered professional nurse is responsible for assessing, diagnosing, planning, implementing and evaluating delivery of care. The registered professional nurse is accountable for direct patient care and for supervising the care provided by professional and ancillary personnel. The registered professional nurse assesses and plans for the educational needs of the patient and family that will contribute to the maintenance or restoration of health status on discharge. As a member of the health team, the registered professional nurse implements the nursing plan, coordinates with the medical plan and works collaboratively with the interdisciplinary team. Professionalism is demonstrated by quality of care, leadership and in continued professional growth and development. Quality assurance endeavors, through process improvement initiatives, are implemented through and with the nursing team.
Qualifications
Required...
Graduate of an accredited nursing program & currently licensed in the State of Washington
Current CPR card (maintenance required)
Preferred...
One to two years of previous clinical experience preferred in appropriate nursing area
ENPC
CNOR
Additional Information
Wage Range $30.40 - 55.76
FTE 0.6/24 hours per week
See above
See above
See above