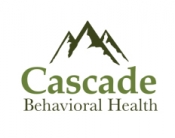 View the Website
Organization: Cascade Behavioral Health
Category: Nurse
Location: Tukwila, WA
Date Job Posted: February 12, 2021
Share with Others:
Registered Nurse
Shift Differentials for Evening and NOC shifts, Weekend Premium for all weekend shifts! The registered nurse is responsible for the direct and indirect nursing care of patients on assigned unit. They are responsible for implementing and evaluating the nursing care delivered within his/her shift, and for utilizing the nursing process to provide assessment, treatment planning, and evaluation of patient care within designated clinical areas. The Nurse acts as a clinical role model and provides nursing consultation to staff within the assigned areas of responsibility. Intensive management and care coordination for both acute and chronic psychiatric/substance abuse patients to assure quality care. Is able to deal quickly with and assess the needs of the patient and to develop solutions, treatments that may need to fluctuate rapidly if the patient's condition/mental state changes. This includes psychosocial assessment, development of a treatment plan, interventions designed to achieve treatment plan goals, education, monitoring, and referral and coordination with community resources when necessary. Insures quality care across the care continuum, and reduce inpatient costs. Good understanding of both general nursing, as well as working with the psychiatric and substance abuse patient. Is responsible for the direction and the supervision of assigned personnel.
New graduates are encouraged to apply!
Graduate from an accredited school of nursing, BS in Nursing preferred.
Minimum of one year of experience in nursing is required; two years of experience in a behavioral health/psychiatric/addiction recovery environment, inpatient or outpatient, is preferred.
Current Washington State Licensure as a Registered Nurse required
Current BLS certification for the Healthcare Provider required
Certification in psychiatric or substance abuse nursing (e.g.: PMHN, CARN) preferred
Knowledgeable about human behavior
See above
See above
See above