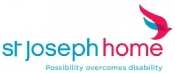 View the Website
Organization: St. Joseph Home
Category: Nurse
Location: Cincinnati, OH
Date Job Posted: September 22, 2021
Share with Others:
Registered Nurse
$26.25/hour plus more depending on experience
St. Joseph Home is looking for a compassionate, motivated person (like you!) to join our Nursing Team.
FULL TIME 3RD SHIFT
St. Joseph Home creates a home for adults and children with developmental disabilities who have complex support needs and use a wheelchair for mobility. We offer a creative, loving environment for those in the residential, respite programs, and day programs.
Description/Background:
Low patient/nurse ratio affords you the time to build a relationship with our residents
We offer a full-scale training program, with the opportunity for skills advancement!
Trach and/or Ventilator experience preferred, but not required!!
Qualifications:
Being a Nurse at St. Joseph Home has its perks.
You'll enjoy benefits like:
Competitive pay
Medical, dental, vision, and life insurance
401K plan that St. Joseph will contribute to
Paid time off and employee assistance programs
Tuition assistance
Student loan forgiveness - since we are non-profit, your work here may qualify you for loan forgiveness
Benefit eligibility is dependent on employment status.
See above
See above
See above