Master's level Mental Health Clinicians, Jackson County, OR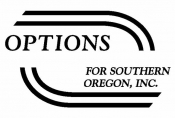 View the Website
Options for Southern Oregon
Behavioral Health Professional
Jackson County, OR
June 16, 2017
Master's level Mental Health Clinicians
Options for Southern Oregon
(Jackson County, Oregon--Medford and surrounding area)
Provide outpatient clinical recovery-focused services to adults with mental illness and substance abuse problems, if present. Clinician provides screenings, assessments and treatment planning in conjunction with the client and other individuals as indicated. Clinicians may provide behavioral health counseling/therapy, case management/ care coordination services for clients on caseload dependent on client need. Office and community based work available.
Applicants are encouraged to discuss career preferences at the interview. Clinicians work as part of a larger team with support from a variety of other disciplines including psychiatry, peer specialists, supported employment specialist etc. Clinical supervision and training is provided along with continuing education opportunities. 2017 grads welcome to apply as well as experienced therapists and case/care managers. Relocation allowance provided.
Excellent compensation and benefits: family medical, long term disability, retirement plan with 6% match - and more. For more information and to apply online visit www.optionsonline.org and click on Jobs. EOE.
See above
See above
See above