Director of Nursing - Care Center/Nursing Home, John Day, OR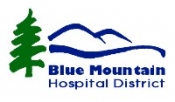 View the Website
Blue Mountain Hospital District
Director
John Day, OR
July 23, 2018
Director of Nursing - Care Center/Nursing Home (Exempt/Full Time)
City, State: John Day, Oregon
Let the adventure being in Northeastern Oregon surrounded by beautiful mountain ranges, rural ranching community and lots of outdoor activities.
BLUE MOUNTAIN CARE CENTER is accepting applications for an Experienced Director of Nursing position (Intermediate Care/Nursing Home)- Full Time/Exempt located at facility in Prairie City, Oregon. Competitive Wage and Benefits Package.
DNS position Minimum Requirement: DNS is Full Time/Exempt; a Registered Nurse with nursing administration experience with at least 6 months; within 9 months of hire successfully completed 6 credit hours in management or supervision pertinent to long term care from an accredited college, OR a BSN.
SUMMARY:
The Director of Nursing Services has administrative authority, responsibility, and accountability for assuring functions and activities of the nursing services department. DNS participates in the development of any facility policies that affect the Nursing Services department. The DNS is directly responsible to the facility Administrator. Ensures the compliance with resident care quality standards as it relates to the care provided to all age groups. Maintains performance improvement activities within the department and participates in PI activities. Works with facility Administrator to assure competency of all nursing services personnel in areas of responsibility. Assists in formulating the budget and maintains efficient and effective departmental operations while required compliance with all state, federal, and local regulations, laws, standards and protocols. Additionally, is able to perform general nursing duties in all areas. Participants in performance improvement and continuous quality (CQI) activities.
REPORTS TO: Facility Administrator
MINIMUM PROFESSIONAL REQUIREMENTS:
Required:
Bachelor of Science in Nursing Degree (BSN)or
RN must have at least six months in a nursing administration experience.
Graduate of an accredited program of nursing education, current RN Licensure with state of practice or, eligible to obtain licensing in the State of Oregon, and BLS Certification.
Must complete 30 continuing education hours pertinent to nursing administration every two years.
Preferred:
MSN preferred. Oregon State law mandates that within nine months of employment the DNS have successfully completed six credit hours in management or supervision pertinent to long-term care or have a BSN or MSN with course work in management.
Nursing Home, Long Term Care or Assisted Living experience is preferred.
Oral and written communication skills are required. Ability to read, write, speak and understand the English language. Must be self motivated and able to deal with people in a professional manner at all times.
Establish and maintain solid work relationships through communication, cooperation and positive interaction with all employees, staff, physicians and patients.
Additional Information
Position Type : Full Time
Shift : Day
Contact Information
Recruitment Support - General Inquiries Only
Human Resources
170 Ford Street
John Day, OR 97845
Email: RecruitmentSupport@bluemountainhospital.org
Phone: 541-575-1311 #2964
See above
See above
See above