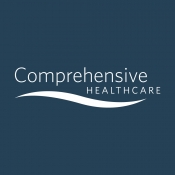 View the Website
Organization: Comprehensive Healthcare
Category: Director
Location: White Salmon, WA
Date Job Posted: May 13, 2022
Share with Others:
The Director is responsible for all fiscal, administrative, clinical, and operational aspects of our services in Klickitat County, which includes our outpatient clinics in Goldendale and White Salmon and our crisis outreach services for the entire county. The Director will oversee staff and provide clinical supervision, develop and monitor the site budget, and ensure that services provided are effective and accessible. When necessary, the Director might also participate in treatment services and rotating on-call crisis coverage. This position will work out of our White Salmon office primarily, but will also travel frequently to our Goldendale office and occasionally to our Yakima office. To be successful in this role, the Director should be highly motivated with a strong clinical background, have exceptional interpersonal skills, and have a talent for leading and motivating others.
Director duties may include:
managing staff levels, work assignments, and site processes to ensure - efficient treatment delivery
providing clinical supervision to staff, which includes the assessment of clinical skills, giving constructive feedback, and offering training
participating in the call rotation for crisis response services and providing therapy services to assigned caseload of clients
ensuring the delivery of appropriate, clinically-effective, and culturally-competent services across all programs and teams
developing and initiating new programs as identified by the strategic plan
monitoring the clinical effectiveness of site programs and participating in quality improvement & utilization management projects
representing Comprehensive Healthcare in the community and developing positive relationships with stakeholders
maintaining the budget to ensure fair & effective resource management
Qualifications:
Master's degree in social work, psychology, counseling, or related field
Four years of relevant experience, with prior supervisory experience preferred
Clinical knowledge and experience with children, adults, and families
Broad programming abilities for diverse clinical populations
Experience making presentations & working with leadership boards
Valid driver's license and vehicle liability insurance
Must be fully vaccinated against COVID-19 and provide documentation upon hire or be approved for a qualifying medical or religious exemption prior to starting work
Apply online: https://www.paycomonline.net/v4/ats/web.php/jobs/ViewJobDetails?job=19110&clientkey=19D9D2EBCE0A34CBC7B47FD6059715AF
See above
See above
See above